Product Description
LAMAT PIPING – Ductile Iron Grooved Fittings
Name
Rigid coupling, Flexible coupling, 90° Elbow, 45° Elbow, 22.5° Elbow, 11.25° Elbow, Split Flange, Adaptor Flange, Cap
Tee, Reducing Tee(Grooved/Threaded), Mechnical Tee(Grooved/Threaded), U-bolted Mechnical Tee
Cross, Reducing Cross(Grooved/Threaded), Mechnical Cross(Grooved/Threaded)
Reducer(Grooved/Threaded), Grooved Eccentric Reducer
H.S. CODE
735710000
Technology
Casting
Connections
Grooved-Thread End, Grooved End
Pressure Rate
300PSI / 2.07MPa
Size
1" – 12"
Pipe O.D.
33.7MM – 323.9MM
Surface Finish
Epoxy Powder,Painting,Galvanization,Dacromet (in Red/Orange/Blue/White Color)
Design Standard
American Standard
ANSI/ASTM
European Standard
EN
British Standard
BS
Germany Standard
DIN
Japanese Standard
JIS
ISO Standard
ISO
Thread Standard
ASME B.1.20.1 / EN15716 / DIN2999 / ISO7-1 / ISO228 / IS554 / BS EN15716 / BS 21.173
Material Standard
Ductile Iron confirms to ASTM A-536 Gr65-45-12,EN1563,JIS G5502,QT450-12
Gasket Material
EPDM,NBR or Silicon Rubber
Bolts & Nuts
ISO 898-1class 8.8
Flanges Standard
PN series or Class series
Packages
Plywood Cases or Plywood Pallets or Boxes
Application
Fire Fighting System,Petrochemical & Gas Industry,Chemical,Machinery,Electric Power,Construction Water Works,Valve Industry,etc.
Advantages
High Quality + Ready Stock + Faster Delivery + Customized
Brand
LMP
Certificate
ISO9001,API,CE,UL/FM
Products Details
Factory & Workshop Show
Company Profile
WHO WE ARE
Lamat Piping established in 2002s,is 1 of China's leading piping manufacturing and exporting suppliers,specialized in qualified steel flanges, butt weld pipe fittings and malleable cast iron fittings for clients from over 60 countries and regions worldwide.
Lamat Piping is the single and independent exporting department of NPCC(National Piping Construction Cooperation),who is a group company with 5 factories located in ZheJiang and ZheJiang , where the regions have very long histories in manufacturing Steel & Iron products dating back to 1990s. CHINAMFG Piping(NPCC) aims to combine and intergrade some leading and high quality industries to become a modern and international piping supplier in the new century. Now we have more than 30 producing and machining lines with over 1000 normal workers and 80 technical employees. Our factories covers over 300,000 square meters,and has an annual output of 500,000Tons.
WHAT WE PRODUCE
Lamat Piping(NPCC) is producing flanges from 1/2" to 144" – Standards including ASTM B16.5, EN1092-1, BS4504, BS10, SANS1123, DIN, JIS, UNI, GOST, KS, AS, etc. Products including Plate Flanges FF/RF, Slip On Flanges FF/RF, Blind Flanges FF/RF, Welding Neck Flanges, Screwed Flange, Socketed Flanges, Lap Joint Flanges,Backing Rings Flanges,etc. Pressures includes 150LBS to 2500LBS in ASTM B16.5,PN6(T6/3/4/8) to PN100(T100/3/4/8) in EN1092-1/BS4504/BS10, T600/3/4/8 to T4000/3/4/8 in SANS1123.
Lamat Piping(NPCC) is producing butt weld fittings from 1/2" to 144" – Standards including ASTM B16.9, JIS B2311, EN15713, DIN, GOST…etc. Products including 45/90/180 Degree Short/Long Radius Elbow,Equal/Reducing Tee,Cross,Concentric/Eccentric Reducer,End Cap.
Lamat Piping(NPCC) is also producing malleable cast iron fittings from 1/2" to 6" – Standards ASME B16.3, ASME B16.14,BS EN15712,BS1256,DIN2950, BNR6943, ISO49,etc. Products including Elbow,Bend,Tee,Socket,Nipple,Bushing,Union,Cap,Plug,Back Nut.
WHAT WE SOURCE
With 30+ years constant efforts and experience,now CHINAMFG Piping(NPCC) has become our customers' expert manufacturer and supplier for a very wide range of piping products.And today CHINAMFG Piping is not only supplying Flanges,BW fittings & Malleable Iron Fittings produced by ourselves,but also sourcing and exporting various Pipe Fittings & Valves s from China's leading industries,including Cast Iron Valves, Ductile Iron Pipe Fitting, Stainless Steel 1,2,3PC Ball Valve, Stainless Steel 150LBS NPT/BSP Fittings, Wrought Steel Fittings,Grooved Fittings,Forged Steel Fittings,HDPE Pipes Fittings Valves,PVC Pipes Fittings Valves, Brass Valves Fittings,etc.
WHAT WE PROMISE
"BETTER QUALITY, BETTER SERVICES" is our promise to all of our customers and "CREATE VALUE FOR CUSTOMERS" is our ultimate goal. CHINAMFG Piping promises that we'll continue to put quality in the first place;besides,we will not lose our fixed-focus on the service aspect of our business,which has been,and will continue to be the foundation of our success and our future growth.
WHAT YOU CHOOSE
If you'd like to trust CHINAMFG Piping,Lamat people will do the best to be worthy of your trust!
Producing Process & Inspection
Pipeline System Application
Packaging & Shipping
FAQ
Q0: Are you a factory or trading company?
A: We are a factory mainly producing pipe fittings & flanges. We also have cooperated factories to supply other piping products.
Q1: How do your Control the Quality?
A: We have QA & QC department who will follow up all the producing process to make sure we're supplying correctly.
Q2: What Machines are you using for Manufacturing and Machining?
A: We have Forging/Stamping Machine,CNC Machine,Hole-Drilling Machine,Sandblasting Machine. All producing is in our factory except Galvanization.
Q3: Can we get Samples for Testing?
A: Yes,sapmles are supplied free of charge.
Q4: Can you accept OEM & marking our LOGO?
A: Yes,no problem if you can provide Authorization.
Q5: Can you offer Drawings & Datasheets?
A: Yes,Drawings & Datasheets will be sent for your confirmation before Bulk Production.
Q6: Can you supply MTC with EN15714 3.1/3.2 Certificate?
A: Yes,MTC will be provided after production is finished.
Q7: Can we visit your factory to inspect the goods before delivery?
A: Yes sure. Welcome to our factory,and we also accept Third Party Inspection like SGS,TUV,BV,etc.
Q8: Can you combine goods from our other suppliers to ship together?
A: Yes,we'd like to assist you to ship together to save your time and money.
Q9: How long is your Delivery Time?
A: It depends on quantity and products. It can be delivered in 1 week if we have Ready-Stock; if not,the General Production Time is 25 – 50 Days.
Q10: What's your Payment Terms?
A: Currently we're working with our clients under T/T,L/C,O/A,Western Union,etc.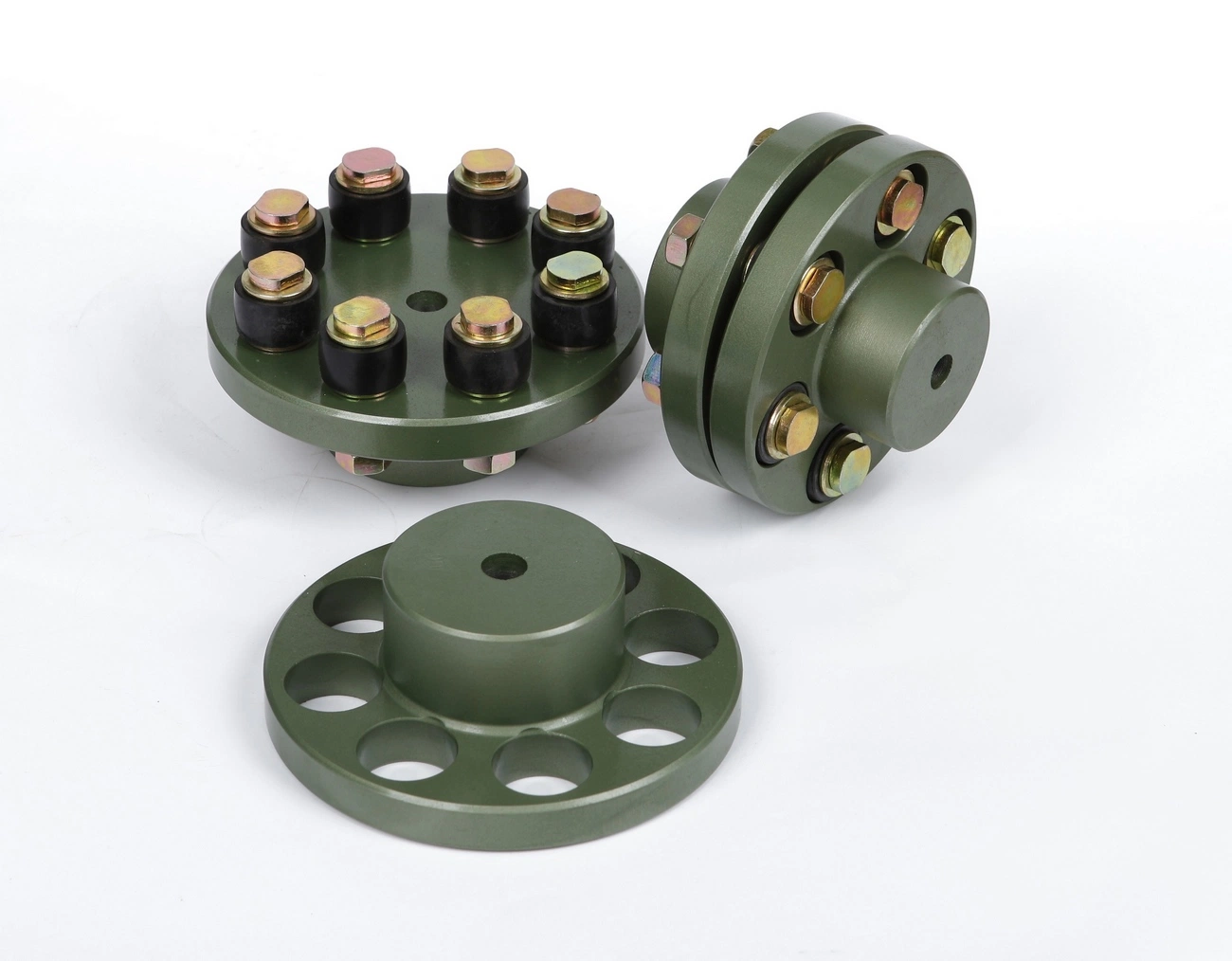 Can flexible couplings be used in food processing and pharmaceutical industries?
Yes, flexible couplings can be used in both the food processing and pharmaceutical industries under certain conditions. These industries have stringent requirements for equipment used in their processes, including hygienic design, cleanliness, and resistance to contamination. Here's how flexible couplings can be used in these industries:
Hygienic Design: In food processing and pharmaceutical applications, flexible couplings with hygienic designs are essential to prevent the accumulation of food particles, dust, or other contaminants. Stainless steel or FDA-approved materials are commonly used to ensure compliance with hygiene standards and ease of cleaning.
Cleanability: The equipment used in food processing and pharmaceutical industries must be easily cleanable to maintain product purity. Flexible couplings with smooth surfaces and no crevices or pockets that can trap particles are preferred.
Chemical Resistance: Some food processing and pharmaceutical applications involve the use of cleaning agents or chemicals. Flexible couplings must be resistant to these chemicals to prevent degradation and ensure long-term reliability.
Corrosion Resistance: In food processing and pharmaceutical environments, equipment is often exposed to washdowns and sanitizing solutions. Flexible couplings made of corrosion-resistant materials can withstand these conditions and maintain their performance over time.
Compliance with Standards: The food processing and pharmaceutical industries are subject to strict regulations and standards. Flexible couplings used in these industries should comply with relevant industry standards, such as FDA, EHEDG, or NSF standards.
Non-Toxic Materials: Flexible couplings used in direct contact with food or pharmaceutical products must be made of non-toxic materials that will not contaminate the process.
Resistant to Temperature Extremes: Some food and pharmaceutical processes involve extreme temperatures. Flexible couplings must be capable of withstanding high and low temperatures without compromising their integrity.
When selecting flexible couplings for food processing and pharmaceutical applications, it is essential to work closely with manufacturers and suppliers who understand the industry's unique requirements. Customized solutions may be necessary to ensure that the couplings meet the specific needs of the application and comply with industry standards.
Summary: Flexible couplings can be used in food processing and pharmaceutical industries when they meet the necessary hygiene, cleanability, chemical resistance, corrosion resistance, compliance with standards, and temperature resistance requirements. Proper selection and application of flexible couplings can contribute to the efficiency and reliability of equipment in these critical industries.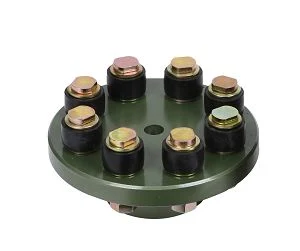 What are the differences between single and double flexible coupling designs?
Single and double flexible couplings are two common designs used for power transmission in various mechanical systems. Here are the main differences between the two:
Design: The primary difference lies in their configuration. A single flexible coupling consists of one flexible element connecting two shafts, while a double flexible coupling, also known as a two-piece flexible coupling, uses two flexible elements with an intermediate shaft in between. The double flexible coupling resembles two single couplings connected in series.
Torsional Flexibility: Single flexible couplings typically provide greater torsional flexibility than double flexible couplings. The presence of an intermediate shaft in the double coupling design adds some rigidity and reduces the overall torsional flexibility of the system.
Compensation of Misalignment: Both single and double flexible couplings can compensate for angular and parallel misalignment between shafts. However, due to its additional flexible element, the double flexible coupling may have slightly better misalignment compensation capabilities.
Length and Space: Single flexible couplings are generally shorter in length compared to double flexible couplings. The double flexible coupling's design requires additional space to accommodate the intermediate shaft, making it longer than the single coupling.
Shaft Separation: Single flexible couplings connect the two shafts directly without any intermediate components, while the double flexible coupling separates the shafts using an intermediate shaft. This shaft separation in the double design can be advantageous in certain applications.
Stiffness: The double flexible coupling tends to be slightly stiffer than the single flexible coupling due to the presence of the intermediate shaft, which may affect its ability to absorb vibrations and shock loads.
Application: Single flexible couplings are commonly used in various applications, including pumps, compressors, fans, and general power transmission systems. Double flexible couplings are often preferred in applications where a higher level of torsional stiffness is required, such as certain industrial machinery.
Both single and double flexible coupling designs have their advantages and are suitable for different types of machinery and power transmission requirements. The choice between the two depends on factors such as the specific application, the level of misalignment compensation needed, the available space, and the desired torsional flexibility for the system.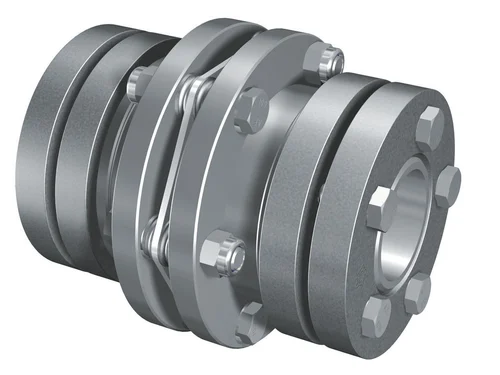 Are there any limitations or disadvantages of using flexible couplings?
While flexible couplings offer numerous advantages, they do come with some limitations and disadvantages that should be considered when selecting them for specific applications. Here are some of the common limitations and disadvantages of using flexible couplings:
Torsional Stiffness: Flexible couplings provide some level of torsional flexibility, which is advantageous in many applications. However, in systems that require high precision and minimal angular deflection, the inherent flexibility of the coupling may not be suitable. In such cases, a rigid coupling may be more appropriate.
Limitation in High-Torque Applications: While some flexible couplings can handle moderate to high torque levels, they may not be as well-suited for extremely high-torque applications. In such cases, specialized couplings, such as gear couplings, may be required to handle the high torque demands.
Temperature Limitations: The performance of certain flexible coupling materials, especially elastomers and plastics, may be affected by extreme temperature conditions. High temperatures can lead to premature wear and reduced lifespan of the coupling, while low temperatures may result in reduced flexibility and potential brittleness.
Chemical Compatibility: Certain flexible coupling materials may not be compatible with certain chemicals or substances present in the application's environment. Exposure to chemicals can cause degradation or corrosion of the coupling material, affecting its performance and lifespan.
Installation and Alignment: Flexible couplings require proper installation and alignment to function effectively. If not installed correctly, misalignment issues may persist, leading to premature wear and reduced performance. Aligning the shafts accurately can be time-consuming and may require specialized equipment and expertise.
Cost: In some cases, flexible couplings may be more expensive than rigid couplings due to their more complex design and use of specialized materials. However, the cost difference is often justified by the benefits they offer in terms of misalignment compensation and vibration damping.
Service Life: The service life of a flexible coupling can vary depending on the application's conditions and the quality of the coupling. Regular maintenance and timely replacement of worn or damaged parts are essential to ensure the coupling's longevity and prevent unexpected failures.
Despite these limitations, flexible couplings remain highly valuable components in a wide range of applications, providing efficient torque transmission and compensating for misalignment. Proper selection, installation, and maintenance can help mitigate many of the disadvantages associated with flexible couplings, ensuring their reliable and long-lasting performance in various mechanical systems.



editor by CX 2023-10-06