Product Description
SC Transmission FCL Flexible Shaft Couplings for Reducer and Motor
Product Description
FCL Coupling/Shaft Coupling /Pin & Bush Coupling /FCL Flexible Coupling/NBK FCL Coupling is widely used for its compacts designing, easy installation, convenient maintenance, small and light weight. 
As long as the relative displacement between shafts is kept within the specified tolerance, couplings will operate the best function and have a longer working life.
Thus it is greatly demanded in medium and minor power transmission systems driven by motors, such as speed reducers, hoists, compressors, conveyors, spinning and weaving machines and ball mills.
Product Parameters
SIZE
 
 
D
D1
d1
L
C
n-M
kg
 
r/min
N.m
 
FCL90
4
4000
90
35.5
11
28
3
4-M8
1.7
FCL100
10
4000
100
40
11
35.5
3
4-M10
2.3
FCL112
16
4000
112
45
13
40
3
4-M10
2.8
FCL125
25
4000
125
65
50
13
45
3
4-M12
4
FCL140
50
4000
140
71
63
13
50
3
6-M12
5.4
FCL160
110
4000
160
80
15
56
3
8-M12
8
FCL180
157
3500
180
90
15
63
3
8-M12
10.5
FCL200
245
3200
200
100
21
71
4
8-M20
16.2
FCL224
392
2850
224
112
21
80
4
8-M20
21.3
FCL250
618
2550
250
125
25
90
4
8-M24
31.6
FCL280
980
2300
280
140
34
100
4
8-M24
44
FCL315
1568
2050
315
160
41
112
4
10-M24
57.7
FCL355
2450
1800
355
180
60
125
5
8-M30
89.5
FCL400
3920
1600
400
200
60
125
5
10-M30
113
FCL450
6174
1400
450
224
65
140
5
12-M30
145
FCL560
9800
1150
560
250
85
160
5
14-M30
229
FCL630
15680
1000
630
280
95
180
5
18-M30
296
Company Profile
FAQ
Shipping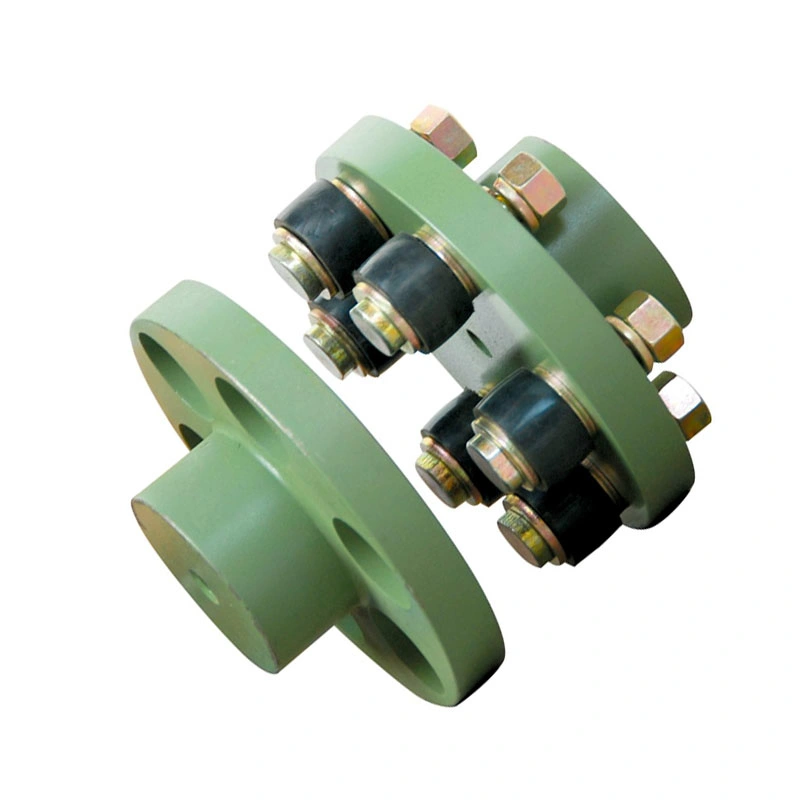 What role does a flexible coupling play in minimizing wear and tear on connected components?
A flexible coupling plays a vital role in minimizing wear and tear on connected components by absorbing and mitigating various mechanical stresses that occur during operation. Here's how a flexible coupling achieves this:
Misalignment Compensation: One of the primary causes of wear and tear on rotating machinery is misalignment between connected shafts. Misalignment can occur due to factors such as thermal expansion, foundation settling, or assembly errors. A flexible coupling can accommodate both angular and parallel misalignments, reducing the stress on the shafts and connected components. By allowing for misalignment, the coupling prevents excessive forces from being transmitted to the connected components, minimizing wear.
Vibration Damping: During operation, rotating machinery can generate vibrations that lead to accelerated wear on components like bearings, gears, and couplings. A flexible coupling acts as a vibration damper, absorbing and dispersing vibrations, reducing their impact on connected components. This damping effect helps prevent fatigue and extends the life of the components.
Shock Absorption: Machinery may experience sudden shocks or impact loads during start-ups, shutdowns, or due to external factors. A flexible coupling is designed to absorb and cushion these shocks, preventing them from propagating through the system and causing damage to sensitive components.
Smooth Torque Transmission: In rigid couplings, torque transmission between shafts can be abrupt and cause torque spikes. These spikes put stress on the connected components, leading to wear and fatigue. Flexible couplings transmit torque smoothly, without sudden spikes, ensuring even distribution of forces and reducing the wear on components.
Controlling Torsional Vibrations: Torsional vibrations, a type of vibration that affects rotating shafts, can be damaging to connected components. Some flexible couplings are designed to address torsional vibration issues, providing additional protection against wear and tear.
Compensating for Thermal Expansion: Temperature fluctuations can lead to thermal expansion or contraction of machinery components. A flexible coupling can accommodate these changes, preventing undue stress on the connected components that may arise from differential expansion rates.
By performing these functions, a flexible coupling acts as a protective barrier for connected components, minimizing wear and tear, and contributing to their longevity. The reduced wear and stress on the components also result in lower maintenance costs and improved overall reliability of the mechanical system.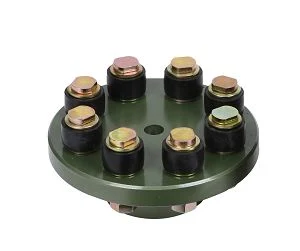 Can flexible couplings be used in precision manufacturing equipment, such as CNC machines?
Yes, flexible couplings can be used in precision manufacturing equipment, including CNC (Computer Numerical Control) machines. CNC machines require high accuracy and precision during operation to produce complex and intricate parts. Flexible couplings play a vital role in such equipment by providing various benefits that enhance their performance and reliability.
Compensation for Misalignment: CNC machines often have multiple moving parts and axes that need precise alignment. Flexible couplings can accommodate small misalignments between these components, ensuring smooth and reliable power transmission without inducing additional stress or strain on the system.
Vibration Damping: Precision manufacturing requires minimizing vibrations that could affect the quality of the finished product. Flexible couplings with damping properties can absorb and dissipate vibrations, resulting in better surface finishes and accuracy of the machined parts.
Torsional Flexibility: CNC machines may experience torque fluctuations during acceleration, deceleration, or tool changes. Flexible couplings with torsional flexibility can handle these variations and prevent torsional vibrations from affecting the machining process.
Backlash Compensation: Some types of flexible couplings, such as beam couplings, offer minimal or near-zero backlash. This characteristic is essential in CNC machines, as it helps maintain positional accuracy during direction changes and reversals.
High Torque Transmission: CNC machines may require high torque transmission capabilities, especially in heavy-duty cutting or milling operations. Flexible couplings can handle substantial torque loads while still providing flexibility to address misalignments.
Reduced Maintenance: With the ability to absorb shocks and compensate for misalignment, flexible couplings can extend the life of other mechanical components in the CNC machine, reducing overall maintenance requirements and downtime.
It's important to select the appropriate type and size of flexible coupling based on the specific requirements of the CNC machine, including torque, speed, misalignment, and environmental conditions. Regular maintenance and inspection of the flexible couplings will ensure optimal performance and contribute to the overall precision and efficiency of the CNC machine.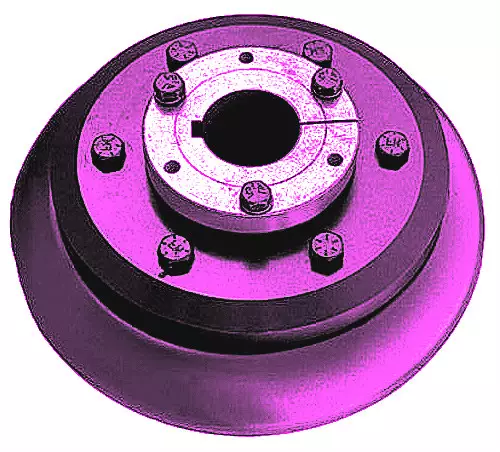 Can flexible couplings be used in corrosive or harsh environments?
Yes, flexible couplings can be designed and selected to be used in corrosive or harsh environments. The choice of materials and coatings plays a crucial role in ensuring the coupling's durability and performance under challenging conditions.
Corrosion-Resistant Materials:
In corrosive environments, it is essential to use materials that can withstand chemical attacks and oxidation. Stainless steel, specifically grades like 316 or 17-4 PH, is commonly chosen for flexible couplings in such situations. Stainless steel offers excellent corrosion resistance, making it suitable for applications where the coupling may come into contact with corrosive substances or moisture.
Special Coatings:
For certain harsh environments, coupling manufacturers may apply special coatings to enhance the coupling's corrosion resistance. Examples of coatings include zinc plating, nickel plating, or epoxy coatings. These coatings provide an additional layer of protection against corrosive agents and help extend the coupling's lifespan.
Sealed Designs:
In environments where the coupling is exposed to contaminants like dust, dirt, or moisture, sealed designs are preferred. Sealed flexible couplings prevent these substances from entering the coupling's internal components, thus reducing the risk of corrosion and wear. The sealed design also helps to maintain the coupling's performance over time in challenging conditions.
High-Temperature Applications:
For harsh environments with high temperatures, flexible couplings made from high-temperature resistant materials, such as certain heat-resistant stainless steels or superalloys, can be used. These materials retain their mechanical properties and corrosion resistance even at elevated temperatures.
Chemical Resistance:
For applications where the coupling might encounter chemicals or solvents, it is essential to select a coupling material that is chemically resistant. This prevents degradation and ensures the coupling's integrity in such environments.
Specialized Designs:
In some cases, where the environment is exceptionally harsh or unique, custom-designed flexible couplings may be necessary. Engineering a coupling to meet the specific demands of the environment ensures optimal performance and reliability.
Consultation with Manufacturers:
When considering flexible couplings for corrosive or harsh environments, it is advisable to consult with coupling manufacturers or engineering experts. They can provide valuable insights and recommend suitable materials, coatings, and designs based on the specific operating conditions.
Summary:
Flexible couplings can indeed be used in corrosive or harsh environments, provided the appropriate materials, coatings, and designs are chosen. Stainless steel, sealed designs, and special coatings are some of the solutions that enhance the coupling's corrosion resistance and performance. It is essential to consider the specific environment and application requirements when selecting a flexible coupling to ensure optimal functionality and durability in challenging conditions.



editor by CX 2023-09-27