Product Description
High Quality Multiple Types/Size Flexible Coupling, Rubber Shaft Coupling 155*76 16A Replacement of Many Types of machine excavator
Our main products:
steel cover lock, filter, oil grid, pump, cylinder head, crankshaft, camshaft, connecting rod, connecting rod bearing, valve, plunger, nozzle, exhaust valve, engine assembly, intake pump , fan blade, engine preheater, radiator, intake valve, main bearing, crankshaft bearing, nozzle, nozzle pipe, oil pump, piston, piston pin, piston ring, plunger, valve seat, thrust bearing, valve guide, valve Seats, valve seals, gasket sets, water pumps, turbochargers, generators, starters, sensors…
Please click here>>>>Contact us for more factory price,shipping and discounts
ENGINE CUSHION
NO.
LB NO.
Model
OEM NO.
Name
NO.
LB NO.
Model
OEM NO.
Name
NO.
LB NO.
Model
OEM NO.
Name
1
KLB-Q3001
PC40
105*53*10
ENGINE CUSHION
15
KLB-Q3015
E312
FRONT
95*28*16
ENGINE CUSHION
29
KLB-Q3571
SK230
90*45*21
ENGINE CUSHION
2
KLB-Q3002
PC120-6 4D102
82*46*18
ENGINE CUSHION
16
KLB-Q3016
EX312
REAR
95*29*17
ENGINE CUSHION
30
KLB-Q3030
HD250
59*31*13
ENGINE CUSHION
3
KLB-Q3003
PC200-3
124*68*45
205-01-71111
ENGINE CUSHION
17
KLB-Q3017
ZAX230
FRONT
95*28*16
ENGINE CUSHION
31
KLB-Q3031
HD450
FRONT
97*15*19
ENGINE CUSHION
4
KLB-Q3004
PC200-5/6
FRONT
80*46*19
20Y-01-12210
ENGINE CUSHION
18
KLB-Q3018
E320B
110*40*22
ENGINE CUSHION
32
KLB-Q3032
HD450
REAR
118*36*19
ENGINE CUSHION
5
KLB-Q3005
PC200-5
REAR
130*73*25
20Y-01-12221
ENGINE CUSHION
19
KLB-Q3019
E330B
136*44*25
ENGINE CUSHION
33
KLB-Q3033
LS120
87*42*17
ENGINE CUSHION
6
KLB-Q3006
PC200-6
6D102
20Y-01-12222
ENGINE CUSHION
20
KLB-Q3571
DH220-3
FRONT
68*70*12
ENGINE CUSHION
34
KLB-Q3034
LS280
FRONT
86*23*16
ENGINE CUSHION
7
KLB-Q3007
EX200
 
ENGINE CUSHION
21
KLB-Q3571
DH220-3
REAR
110*105*14
ENGINE CUSHION
35
KLB-Q3035
LS280
REAR
96*25*16
ENGINE CUSHION
8
KLB-Q3008
EX200-5
REAR
167*110*14
ENGINE CUSHION
22
KLB-Q3571
DH220-5
104*74*19
ENGINE CUSHION
36
KLB-Q3036
SH60
SH65
120*110*12
ENGINE CUSHION
9
KLB-Q3009
EX200-6
REAR
175*135*16
ENGINE CUSHION
23
KLB-Q3571
DH280
FRONT
165*200*16
ENGINE CUSHION
37
KLB-Q3037
6D22
FRONT
70*35*21
ENGINE CUSHION
10
KLB-Q3571
EX200
FRONT
120*155*14
ENGINE CUSHION
24
KLB-Q3571
DH280
REAR
200*110*20
ENGINE CUSHION
38
KLB-Q3038
6D22
REAR
95*41*22
ENGINE CUSHION
11
KLB-Q3011
EX200
REAR
165*105*14
ENGINE CUSHION
25
KLB-Q3571
SK60
FRONT
98*103*12
ENGINE CUSHION
39
KLB-Q3039
DH55
FRONT
100*48*17
ENGINE CUSHION
12
KLB-Q3012
EX200
126*100*11
ENGINE CUSHION
26
KLB-Q3026
SK60
REAR
98*103*16
ENGINE CUSHION
40
KLB-Q3040
SH200A3
137*160*16
ENGINE CUSHION
13
KLB-Q3013
EX300
FRONT
87*35*20
ENGINE CUSHION
27
KLB-Q3571
SK120
FRONT
100*15*19
ENGINE CUSHION
 
 
 
 
 
14
KLB-Q3014
EX300
REAR
110*39*22
ENGINE CUSHION
28
KLB-Q3571
SK120
FEAR
100*47*19
ENGINE CUSHION
 
 
 
 
 
COUPLING
NO.
LB NO.
Model
OEM NO.
Name
NO.
LB NO.
Model
OEM NO.
Name
NO.
LB NO.
Model
OEM NO.
Name
1
KLB-Q2001
 
25H  162*92
COUPLING
22
KLB-Q2571
16A
155*76
COUPLING
43
KLB-Q2043
S32S
235*97
COUPLING
2
KLB-Q2002
MS110 DH55
30H 195*105
COUPLING 
23
KLB-Q2571
16AS
155*76
COUPLING
44
KLB-Q2044
S25S
163*58
COUPLING
3
KLB-Q2003
30H 
195*105
COUPLING ASSY
24
KLB-Q2571
22A
153*76
COUPLING
45
KLB-Q2045
E200B
14T    
COUPLING
4
KLB-Q2004
EX200-2
40H 170*90
COUPLING
25
KLB-Q2571
25A
185*102
COUPLING
46
KLB-Q2046
50AC
14T  205*40
COUPLING
5
KLB-Q2005
40H 
 170*90
COUPLING ASSY
26
KLB-Q2026
25AS
185*102
COUPLING
47
KLB-Q2047
SH280
 
COUPLING
6
KLB-Q2006
45H 
183*92
COUPLING
27
KLB-Q2571
28A
178*93
COUPLING
48
KLB-Q2048
E200B  12T
 
COUPLING
7
KLB-Q2007
45H
183*92
COUPLING ASSY
28
KLB-Q2571
28AS
178*93
COUPLING
49
KLB-Q2049
50AM  16T
205*45
COUPLING
8
KLB-Q2008
90H
 203*107
COUPLING
29
KLB-Q2571
30A
215*118
COUPLING
50
KLB-Q2050
SH200
14T  205*40
COUPLING
9
KLB-Q2009
90H 
203*107
COUPLING ASSY
30
KLB-Q2030
30AS
215*118
COUPLING
51
KLB-Q2051
E330C
350*145
COUPLING
10
KLB-Q2571
50H
 195*110
COUPLING
31
KLB-Q2031
50A
205*108
COUPLING
52
KLB-Q2052
E330C
 
COUPLING
11
KLB-Q2011
50H
  195*110
COUPLING ASSY
32
KLB-Q2032
50AS 
205*108
COUPLING
53
KLB-Q2053
168mm*48m 26T 3H
 
COUPLING
12
KLB-Q2012
110H
 215*110
COUPLING
33
KLB-Q2033
90A
272*140
COUPLING
54
KLB-Q2054
242mm*72mm 50T 8H
 
COUPLING
13
KLB-Q2013
110H
215*110
COUPLING ASSY
34
KLB-Q2034
90AS
272*140
COUPLING
55
KLB-Q2055
295mm*161mm 48T 12H
 
COUPLING
14
KLB-Q2014
140H 
245*125
COUPLING
35
KLB-Q2035
140A
262*132
COUPLING
56
KLB-Q2056
352mm*161mm 48T 8H
 
COUPLING
15
KLB-Q2015
140H 
 245*125
COUPLING ASSY
36
KLB-Q2036
140AS
262*132
COUPLING
57
KLB-Q2057
352mm*161mm 46T 8H
 
COUPLING
16
KLB-Q2016
160H
 255*134
COUPLING
37
KLB-Q2037
E300B 
16T  278*54
COUPLING
58
KLB-Q2058
318mm*72mm 50T 8H
 
COUPLING
17
KLB-Q2017
160H
 255*134
COUPLING ASSY
38
KLB-Q2038
E450
16T 360*52
COUPLING
59
KLB-Q2059
315mm 42T
 
COUPLING
18
KLB-Q2018
4A
104*53
COUPLING
39
KLB-Q2039
SH430  
12T  205*35
COUPLING
60
KLB-Q2060
268mm*100mm 42T 6H
 
COUPLING
19
KLB-Q2019
4AS
104*53
COUPLING
40
KLB-Q2040
SH200
14T  205*40
COUPLING
61
KLB-Q2061
167mm*90mm 47T 3H
 
COUPLING
20
KLB-Q2571
8A
130*70
COUPLING
41
KLB-Q2041
50ASM 
20T  205*40
COUPLING
62
KLB-Q2062
182mm 42T 
 
COUPLING
21
KLB-Q2571
8AS
130*70
COUPLING
42
KLB-Q2042
SH160(SH60) 
15T 173*22
COUPLING
63
KLB-Q2063
220mm 46T 
 
COUPLING
1Q:What is your brand?
1A:Our own brand: Mita Group and its range of excavator parts.
2Q:Do you have your own factory? Can we have a visit?
2A:Absolutely, you are alwayswelcome to visit our factory.
3Q:How do you control the quality of the products?
3A:Our factory was obtained the ISO9001CERTIFICATE.Every process of the production is strictly controlled. And all products will be inspected by QC before shipment.
4Q:How long is the delivery time?
4A:2 to 7 days for ex-stock orders. 15 to 30 days for production.
5Q:Can we print our company logo onproduct and package?
5A:Yes, but the quantity of the order is required. And we need you to offer the Trademark Authorization to us.
6Q:Can you provide OEM BRAND package?
6A:Sorry, we can only offer our company ACT BRAND package or neutral packing,blank package ifyou need, and the Buyers' Brand as authorized.7Q:How long is the warranty period?7A:3 months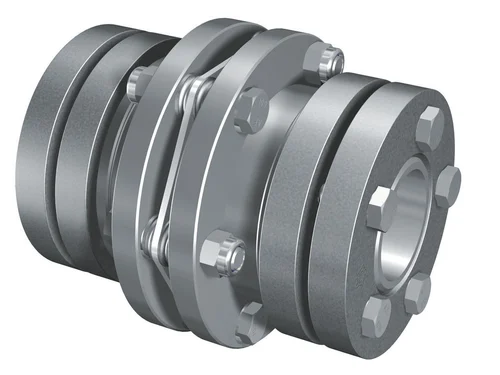 What are the common installation mistakes to avoid when using flexible couplings?
Proper installation is crucial for the reliable and efficient performance of flexible couplings. Here are some common installation mistakes to avoid:
Incorrect Alignment: One of the most critical installation errors is improper alignment of the driving and driven shafts. Misalignment can lead to premature wear, increased vibration, and reduced power transmission efficiency. It is essential to align the shafts within the specified tolerances provided by the coupling manufacturer.
Over-Tightening: Applying excessive torque to the coupling's fasteners during installation can cause damage to the flexible elements and decrease their ability to accommodate misalignment. It is essential to follow the recommended torque values provided by the coupling manufacturer to ensure proper clamping without over-tightening.
Improper Lubrication: Some flexible couplings may require lubrication of their flexible elements or moving parts. Failure to lubricate as recommended can lead to increased friction, wear, and reduced service life of the coupling.
Using Damaged Couplings: Before installation, it is crucial to inspect the flexible coupling for any signs of damage or defects. Using a damaged coupling can lead to premature failure and potential safety hazards. If any damage is detected, the coupling should be replaced with a new one.
Wrong Coupling Selection: Selecting the wrong type or size of the coupling for the application can result in inadequate performance, premature wear, and possible coupling failure. It's essential to consider factors such as torque requirements, speed, misalignment compensation, and environmental conditions when choosing the appropriate coupling.
Ignoring Operating Conditions: Failure to consider the specific operating conditions, such as temperature, humidity, and exposure to corrosive substances, can lead to accelerated wear and reduced coupling lifespan. Choosing a coupling that is compatible with the operating environment is essential.
Ignoring Manufacturer Guidelines: Each flexible coupling comes with specific installation guidelines provided by the manufacturer. Ignoring these guidelines can lead to suboptimal performance and potential safety issues. It is crucial to carefully follow the manufacturer's instructions during installation.
By avoiding these common installation mistakes and following best practices, the reliability, efficiency, and service life of flexible couplings can be maximized, leading to improved performance of the mechanical system as a whole.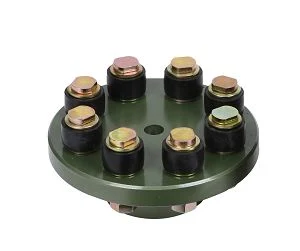 Can flexible couplings be used in precision manufacturing equipment, such as CNC machines?
Yes, flexible couplings can be used in precision manufacturing equipment, including CNC (Computer Numerical Control) machines. CNC machines require high accuracy and precision during operation to produce complex and intricate parts. Flexible couplings play a vital role in such equipment by providing various benefits that enhance their performance and reliability.
Compensation for Misalignment: CNC machines often have multiple moving parts and axes that need precise alignment. Flexible couplings can accommodate small misalignments between these components, ensuring smooth and reliable power transmission without inducing additional stress or strain on the system.
Vibration Damping: Precision manufacturing requires minimizing vibrations that could affect the quality of the finished product. Flexible couplings with damping properties can absorb and dissipate vibrations, resulting in better surface finishes and accuracy of the machined parts.
Torsional Flexibility: CNC machines may experience torque fluctuations during acceleration, deceleration, or tool changes. Flexible couplings with torsional flexibility can handle these variations and prevent torsional vibrations from affecting the machining process.
Backlash Compensation: Some types of flexible couplings, such as beam couplings, offer minimal or near-zero backlash. This characteristic is essential in CNC machines, as it helps maintain positional accuracy during direction changes and reversals.
High Torque Transmission: CNC machines may require high torque transmission capabilities, especially in heavy-duty cutting or milling operations. Flexible couplings can handle substantial torque loads while still providing flexibility to address misalignments.
Reduced Maintenance: With the ability to absorb shocks and compensate for misalignment, flexible couplings can extend the life of other mechanical components in the CNC machine, reducing overall maintenance requirements and downtime.
It's important to select the appropriate type and size of flexible coupling based on the specific requirements of the CNC machine, including torque, speed, misalignment, and environmental conditions. Regular maintenance and inspection of the flexible couplings will ensure optimal performance and contribute to the overall precision and efficiency of the CNC machine.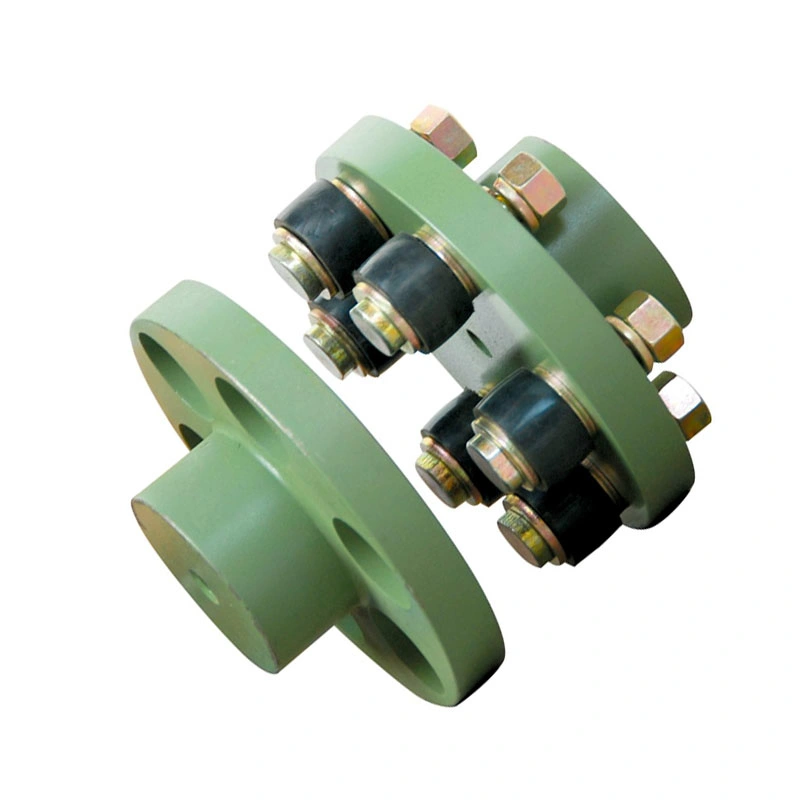 How does a flexible coupling affect the noise and vibration levels in a mechanical system?
A flexible coupling plays a crucial role in controlling noise and vibration levels in a mechanical system. It can significantly impact the overall smoothness and quietness of the system's operation, contributing to enhanced performance and reduced wear on connected components.
Noise Reduction:
Flexible couplings help reduce noise in a mechanical system through their inherent ability to dampen vibrations. When the shafts of rotating machinery are not perfectly aligned, it can lead to vibrations that are transmitted throughout the system, resulting in noise generation. The elastomeric or flexible element of the coupling acts as a vibration dampener, absorbing and dissipating these vibrations. As a result, the noise levels in the system are reduced, creating a quieter operating environment.
Vibration Damping:
Vibrations in a mechanical system can lead to increased wear and tear on critical components, such as bearings, seals, and gears. Excessive vibrations can also cause resonance and damage to the system over time. Flexible couplings can effectively dampen vibrations by acting as a buffer between the driving and driven shafts. The flexible element absorbs the shock and vibrations, preventing them from propagating to other parts of the system. This vibration damping capability not only reduces noise but also protects the system from potential mechanical failures, extending the lifespan of the equipment.
Alignment Compensation:
Misalignment between shafts is a common cause of vibration and noise in rotating machinery. Flexible couplings excel at compensating for both angular and parallel misalignment. By accommodating misalignment, the coupling reduces the forces acting on the shafts and minimizes the generation of vibrations and noise. Proper alignment through the use of a flexible coupling ensures that the system operates smoothly and quietly.
Effect on Equipment Reliability:
Reducing noise and vibration levels has a positive impact on the reliability of connected equipment. Lower vibrations mean less stress on bearings and other rotating components, leading to extended component life and reduced maintenance requirements. A quieter operating environment can also be essential for certain applications, such as in laboratories or precision manufacturing processes, where excessive noise can interfere with delicate tasks or measurements.
Applications:
Flexible couplings find application in a wide range of industries, such as manufacturing, power generation, material handling, automotive, aerospace, and robotics. They are commonly used in pumps, compressors, fans, conveyors, and other rotating machinery where noise and vibration control are critical for smooth and reliable operation.
Summary:
A flexible coupling's ability to reduce noise and dampen vibrations makes it an essential component in mechanical systems. By compensating for misalignment and providing vibration dampening properties, the flexible coupling enhances the overall system performance, reduces noise levels, and protects connected equipment from excessive wear and mechanical failures. Choosing the right type of flexible coupling based on the specific application requirements can have a significant impact on noise reduction and vibration control in the mechanical system.



editor by CX 2023-08-10